Can we all pause for a moment and reflect on what an excellent investment Ethereum has been over the past year? From $383 in October 2020 to $4,628 on 1st December 2022, Ethereum has registered over 1100% growth in value over the last 13 months.
Experts have also praised Ethereum's stability and clear inflation strategy. With most NFTs being a part of the Ethereum blockchain, we can only expect Ethereum to gain momentum further.
If you're a new investor looking to purchase Ethereum or a seasoned investor trying to switch between cryptocurrency exchanges for better profit realizations, you've come to the right place.
Let's get down to the nitty-gritty of buying Ethereum.
How to buy Ethereum: Easiest Process to buy ETH
The process of purchasing Ethereum is relatively straightforward once you get on crypto exchanges.
While the user interface and fees may slightly differ according to the platform you're using, we can summarize the buying process in four easy steps:
Step 1: Choose a crypto exchange platform
Ethereum(ETH), being the second-largest cryptocurrency by market volume, is not too difficult to find on crypto exchanges. The best part about selecting a platform to buy or sell Ethereum is that you'll never run out of options. Some exchanges are simple to use with a graphical interface, while others offer complex trade insights.
How will you choose between them?
First of all, don't forget that the crypto market is highly unregulated and prone to fraud and cyber-attacks. Hence, you must always select a reliable platform that offers secure transactions. Read about their security measures, operations, and most importantly, whether it is regulated in your region.
Next, check their fee structure. Each cryptocurrency exchange has a different transaction fee – the additional amount you pay per transaction for using the exchange. Always read the charges beforehand to avoid large payments eating into your profits. Also, check the daily transaction limit that the platform offers.
For instance, if you buy ETH worth $100 and pay a $10 transaction fee, you'll only receive $90 worth. Therefore, you'd always want to look out for a platform that charges the least. Some platforms also offer bonuses on signing up or making your first transaction, so don't forget to capitalize on freebies.
Explore the user interface, ease of use, and virtual trade options to familiarize yourself with the trading platform before investing. A few popular trading platforms that offer Ethereum in the US are Coinbase, eToro, Gemini, Kraken, FTX, and Coinmama.
Step 2: Add Funds to Exchange Wallets
Once you create an account on any of these platforms, you'll probably be required to submit an ID proof to comply with the Know Your Customer (KYC) requirements and Anti-Money Laundering (AML) regulations. After you provide your personal information and the platform verifies your details, you'll be able to buy and sell Ethereum.
Now you'll need funds in your exchange account. Each exchange offers its own wallet for users to store their funds. For instance, if you sign-up on Binance.us, you'll get a Binance wallet for purchasing and selling Ethereum.
Please note that exchange platforms can be:
Fiat exchanges
Cryptocurrency to Cryptocurrency (C2C) exchanges.
If you want to use fiat currencies (USD, EUR, etc.) to buy ETH, you can deposit money directly to your wallet. You can add funds to your wallet through your bank account, debit card, PayPal, Apple Pay, Credit card, etc.
In contrast, you'll need to deposit a cryptocurrency to buy ETH on a C2C exchange. For instance, you can deposit Bitcoin to your wallet and convert it into Ethereum. Alternatively, you can also store ETH in your wallet to buy crypto of your choice.
Platforms typically levy a different fee for each funding method. Most exchanges charge a deposit fee per trade, so it's always best to deposit a large amount in one go rather than multiple transactions.
Step 3: Buy ETH using a Relevant Pair
All crypto trades on exchange platforms are facilitated through a pair – a combination of two currencies for exchange. A trading pair consists of the base currency(the first part) and the quote currency(the second part). For instance, in an ETH/USD pair, Ethereum is the base while USD is the quote.
An exchange platform shows you how much quote currency you need to buy one whole unit of the base currency. You can either choose a crypto-fiat currency pair or a crypto-crypto such as an ETH/USD pair or ETH/BTC pair.
A crypto-fiat pair represents how many dollars – the quote currency – you need to buy one Ether – the base currency.
For instance, if the ETH/USD pair is 4713, it means you need USD 4713 to buy one full Ethereum. Similarly, an ETH/BTC pair of 0.08065 specifies that you need 0.08065 BTC to buy one ETH.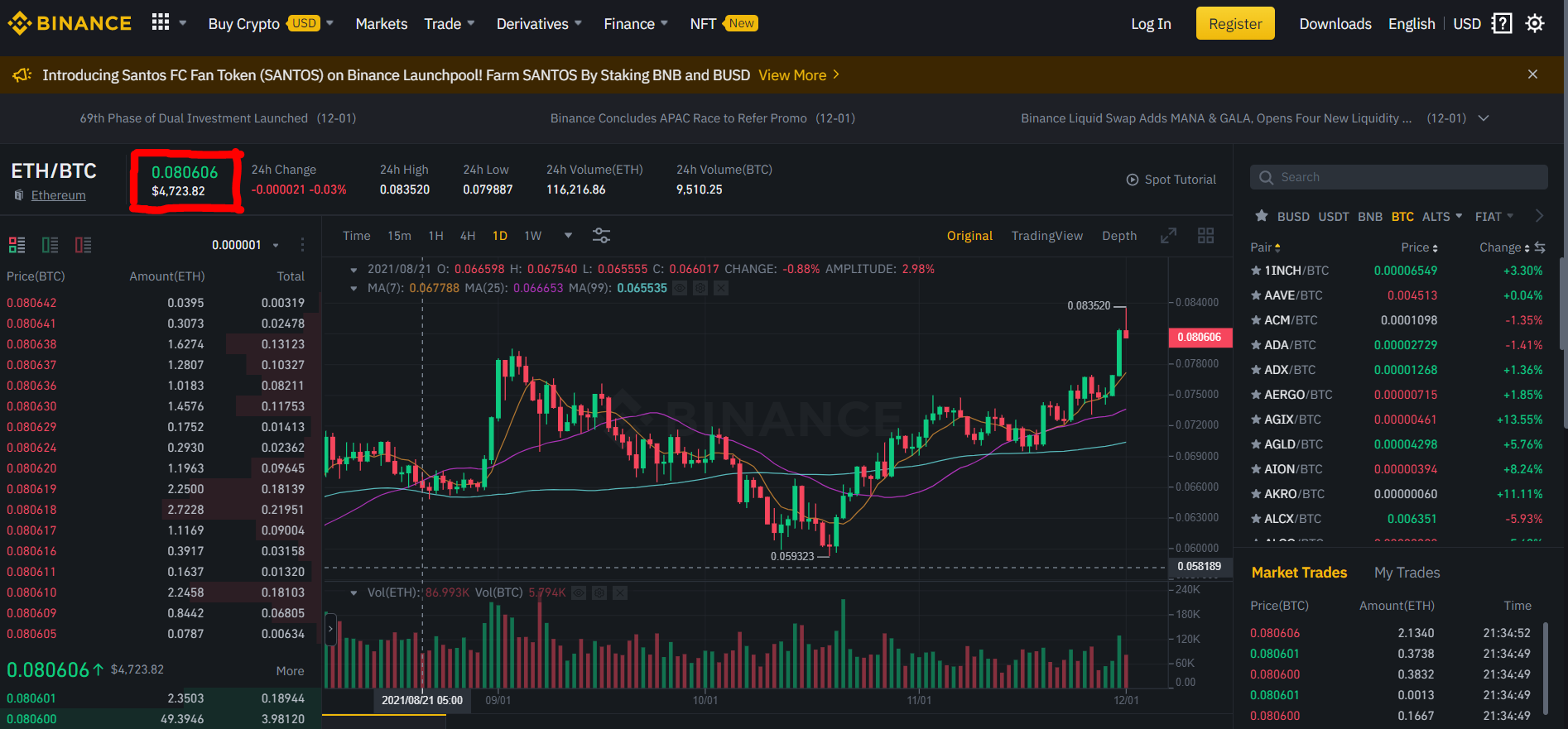 Select the pair that suits you the best. Fiat exchange or using your local currency is typically the easiest method of buying Ether and other cryptocurrencies. You can quickly enter the amount in dollars and check how much ETH you're receiving in return, as shown in the figure below.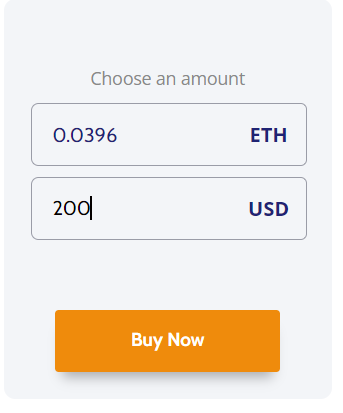 The pair-based trading is becoming obsolete, with most platforms now offering the 'buy Ethereum instantly' option. You can buy directly with a single click using any available payment method.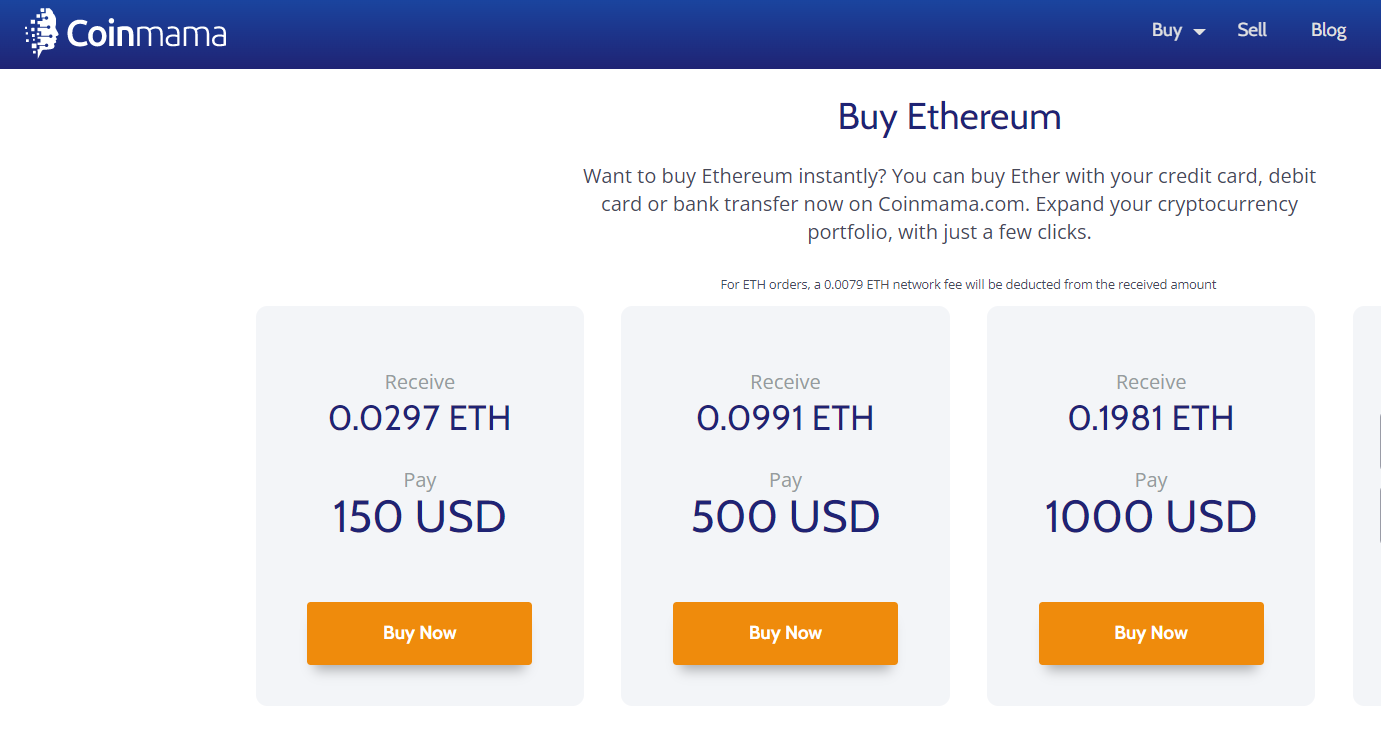 However, some exchanges do not offer fiat exchanges yet. For example, Bittrex and Poloniex only offer C2C trade. These platforms only accept crypto deposits.
Other platforms may convert your money into another crypto first and only allow you to buy Ethereum with a crypto-crypto pair. Therefore, always check whether the fiat and C2C exchanges that the platform offers.
Some users also prefer investing in Ethereum through the crypto that they're already holding. For such users, a C-C pair such as BTC/ETH is more suitable.
Step 4: Store ETH
Once you confirm the transaction, you'll receive the specified amount of Ethereum in your exchange account. You can leave the ETH you've bought in your exchange account itself. However, we'll recommend using a digital wallet for added security and functionality.
If you've bought ETH for investments, you can hold it in your digital wallet. Alternatively, you can also use an ETH wallet to pay transaction fees for using the decentralized applications on the Ethereum network.
Withdrawing any digital currency, ETH in this case, to your wallet or your bank account is quite simple. You can sell your asset to receive the proceeds in your bank account or withdraw ETH in your wallet for further use. Hardware wallets also enable you to take your crypto assets offline for added security.
As we've already mentioned, the basic process for buying ETH remains the same, while functionality and fees can differ on each platform. Let's get into the specifics now.
Exchanges to Buy Ethereum On
We have critically analyzed the five best exchanges in the US and compared the ETH buying process on each crypto exchange to compile this list. Here's a summary of our findings.
Buying ETH on Coinbase
Coinbase is one of the most reliable exchange platforms for buying ETH. It is based in the US and complies with all the latest crypto laws and regulations.
First of all, you need to make an account on the platform. Coinbase also requires you to enter your phone number to complete a two-factor authentication for added security. You also have to submit your ID for verification.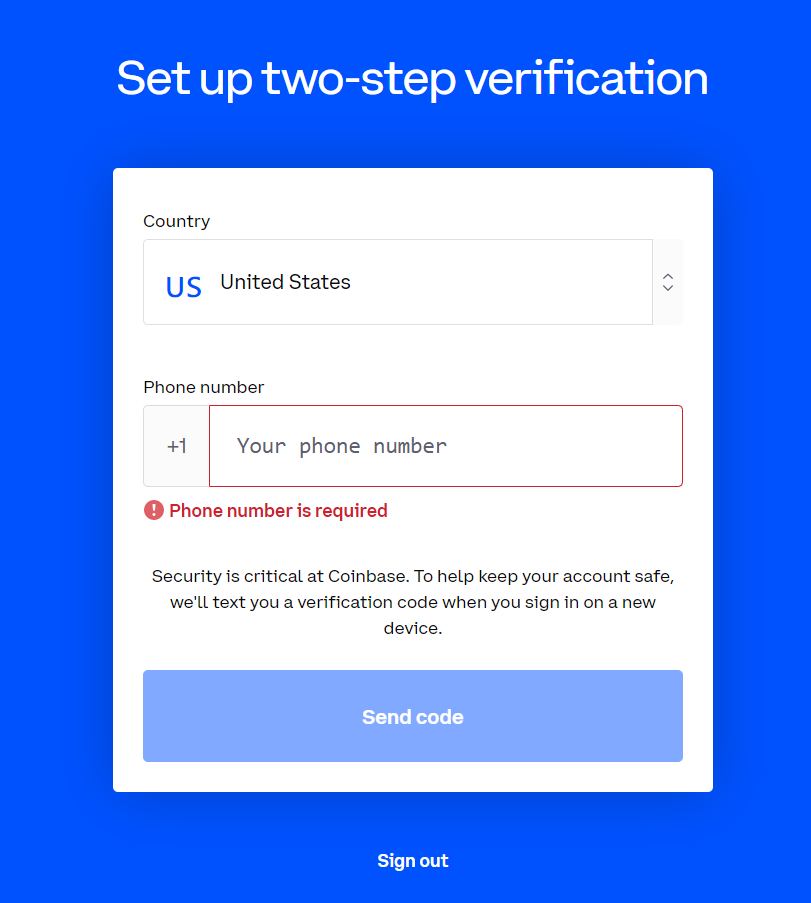 Once you complete the account formalities, you're all set to begin trading Ether. Here's how to buy Ethereum on Coinbase:
Login to your account, click on the Buy/Sell button, and select the buy tab.
From the list of available cryptos, select Ethereum.
Enter the amount worth which you want to buy ETH. For instance, if you add $200 to the box, Binance's buy page will show you the number of ETH you'll receive. The page will also clearly shows you the transaction fee and the rate, so you're sure of your investment.
Proceed to add a payment method to add money to your account. You can use ACH transfer, Debit Card, PayPal, Apple Pay, and Google Pay.
Once you confirm the purchase, the specified amount will get deducted from your wallet, and you'll receive ETH in your Coinbase wallet.
Coinbase has a no-nonsense, simple-to-use interface that's perfect for beginners. It has a transparent payment policy, so you don't have to worry about hidden charges. Plus, the security measures are top-notch, making it one of the best platforms to buy Ethereum.
The transaction fee is a bit higher than other exchanges, which can be a slight issue for users in an otherwise perfect platform.
Purchasing Ethereum on Gemini
If Coinbase's fee is the only issue you're facing, you can migrate to Gemini. It has one of the lowest fees, charging a flat $0.99-$2.99 on transactions up to $200 and 1.49% for purchases over $200.
You can buy crypto easily on the platform once you sign up and complete the verification on the platform. After that, you can follow these simple steps on the buy page:
Select the currency pair. Ex- ETH/USD, ETH/BTC, etc.
Choose the Order Type. Being a robust exchange, Gemini supports buying positions such as limit, stop, margin trade, and more.
If you're buying in dollars, enter the price in USD. The next column will show you the quantity of ETH you'll receive.
Click on the 'Buy' button to make a payment.
Please note that presently Gemini only supports bank and wire transfers.
Gemini is secure, offers a low transaction fee, and also enables you to lock purchase prices. You do not have any account/balance minimum obligations too. Lastly, it allows a limited number of free ETH withdrawals per month.
Overall, Gemini is excellent, but we'll recommend that you understand the various functions on the platform first before investing, as some options can be a tad bit confusing for newbies.
Buying Ether on CEX.IO
When we point out any issue with a platform, we also ensure that you have an alternative. If confusing platforms confuse, here's the platform that lets you buy Ethereum instantly with a few clicks.
CEX.IO offers a straightforward approach through its 'Instant Buy' options. The 'instant buy' page looks something like this.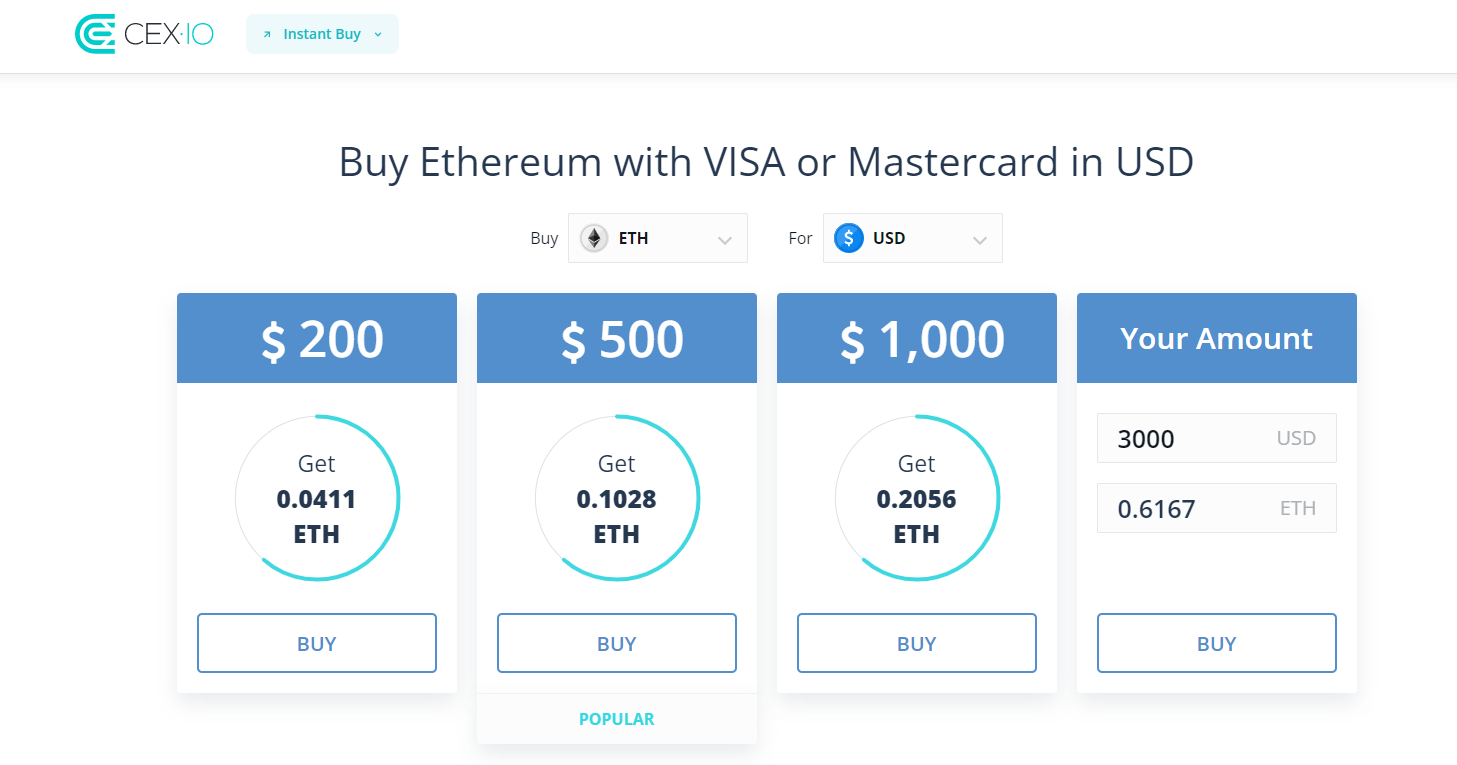 Learn how you can buy Ethereum easily on CEX.IO:
On the home page, click on the 'Products' tab and select the 'Instant Buy' option.
Choose a preset amount or enter a custom amount and click 'Buy.'
Complete the payment and receive the said amount in your account.
The exchange offers you higher credit limits than most other platforms. It also accepts credit cards for making purchases.
However, the fees are slightly more than Coinbase, and the customer support is a bit on the slower side.
Other Platforms
Honorable mentions include Robinhood-the zero brokerage fee platform, Binance.us – Binance's US website, Kraken, and FTX. You can follow similar steps to buy Ethereum on Robinhood, Kraken, Binance.us, and FTX.us.
Buying ETH on a P2P Platform
There are two types of exchange platforms: Centralized Exchanges and Decentralized Exchanges. All the platforms that we've discussed above are examples of centralized exchanges.
Decentralized platforms or Peer-to-Peer exchanges allow you to buy and sell ETH with users from around the world. You can connect with sellers who're offering ETH, read their payment terms, and agree on the deal to confirm the purchase.
These platforms support multiple payment options giving you more control over the payments. Paxful, a P2P platform, supports 404 payment methods, including credit cards, gift cards, Bitcoin Cash, and more. Gemini also offers P2P services.
Select the crypto you want to buy, your preferred payment, and click 'Search.' These platforms will provide you a list of sellers willing to sell ETH for your choice of payment. You can filter the results according to your location and finalize the deal that best suits you.
Besides payment flexibility, P2P platforms do not offer any significant benefits. In fact, they're riskier and costlier than centralized platforms. Each seller generally adds their profit margin to the price, adding to the cost of Ether.
Conclusion
With the advent of interactive user interfaces, buying Ethereum has become much simpler for investors. However, you must always read about the exchange platform's payment terms, fees, security measures, support, and regulatory terms before making an investment. If you're a first-time investor, it is always better to first understand Ethereum and the Ethereum blockchain.
FAQs on Buying on Buying Ethereum Online
How to buy ethereum?
If you want to buy Ethereum, you need to create an account on an exchange platform. Select the amount of ETH you want to buy, and complete the payment through fiat currency or another crypto. You'll receive Ethereum in your exchange wallet.
What are the Best Exchange Platforms for buying Ethereum?
Coinbase is one of the best platforms for buying ETH as it offers the right blend of security and ease of use. Platforms like Gemini and Robinhood are perfect if you want lower transaction fees, while CEX.IO, Kraken, and Coinmama offer an excellent user interface for beginners.
Can I buy Ethereum on Robinhood?
Robinhood offers Ethereum and several other popular cryptos at a zero percent fee on its platform.
–
Anish loves reading, researching, and writing about crypto and blockchain. He started his crypto journey early in 2017, what started as a fad is now a full-time hobby. He curates guides after thorough research on platforms and is responsible for the most in-depth guides on the site. You will find him walking his dog (not Doge) when he is from his Laptop.