I have noticed that since the past few years, exchange platforms have become super user-friendly. Buying bitcoins these days is like online shopping, just get on a website, choose the amount, pay, and start trading.
I was wondering if buying crypto is really like online shopping, will I be able to buy bitcoin with a gift card? Everyone loves a good, ol' gift card, where you have a fixed spend amount, so you don't overindulge. They're excellent for gifting and save you the hassle of accessing your preferred payment method.
The biggest advantage of buying a gift card is that you have the freedom to choose. Well, with bitcoins offering such attractive returns, I'll choose to buy bitcoins with my gift cards any day.
Therefore, I researched more about the topic to learn whether I could really buy bitcoin with a gift card or convert gift cards to bitcoin to multiply my savings, and are gift cards a better option than bank transfer? I found some credible platfomrs that allow you to buy bitcoin with gift cards. 
Let me guide you through.
Can you Bitcoin with a Gift Card?
Yes, yes, and yes. You can buy a bitcoin with a gift card, as simple as it gets. Think of all the possibilities now. Instead of shopping online or buying stuff, you're actually investing it in crypto. The amount which you intended to spend may now offer you excellent returns.
Have unwanted gift cards lying around? Trade it for crypto and watch your money grow.
Now the next question that comes to mind is how I can trade gift cards? Let's delve deeper.
Top 3 Ways to Buy Bitcoin with Gift Cards
While any peer-to-peer marketplace (P2P) or a P2P exchange platform can help you buy Bitcoins, I wanted reliability, ease of transactions, and trading options. The first thing you want to do while buying bitcoins from a platform is to avoid any risks.
I can buy bitcoin instantly from any local store, but it really boils down to how safe and user-friendly is the online marketplace. After considering all these factors and browsing through several websites, I have compiled this list to help ease the process for buyers.
Here's a list of my findings- the best ways to get bitcoin directly using a gift card.
1. Paxful
Paxful is one of the most active Bitcoin trading platforms, with over 6 million users. There are no middlemen here. Trades from all over the world can chat and trade bitcoins without any hassles or excessive commission.
Gift cards are one of the 300 payment options on the website. You can buy Bitcoin and a wide variety of other cryptocurrencies using any of their popular payment methods. It's fast, convenient, and incredibly straightforward to use. The platform has a secure escrow system that ensures you get your coins instantly in your wallet after payment.
Another exciting thing about Paxful is that it supports several gift cards. You can trade crypto using a Google Play gift card, Amazon gift card, iTunes gift card, and more. Options include Barnes & Noble, Target, Hotels.com, Groupon, H&M, BestBuy, IKEA, Xbox, and even OneVanilla prepaid gift cards.
Want to buy Bitcoin with unused gift cards on Paxful? Follow these simple steps.
Step 1: Sign up for a free account at Paxful.
Step 2: Log in to your account. Under the buy option, select 'Bitcoin.'
Step 3: Select the gift card of your choice from the 'Pay Via' option. For instance, if you want to buy Bitcoin with a Walmart gift card, type 'Walmart Gift Card' and choose the appropriate option.
Step 4: Type in how many bitcoins you wish to buy, and click on the 'Search for an offer' tab. You can also change your location for better results.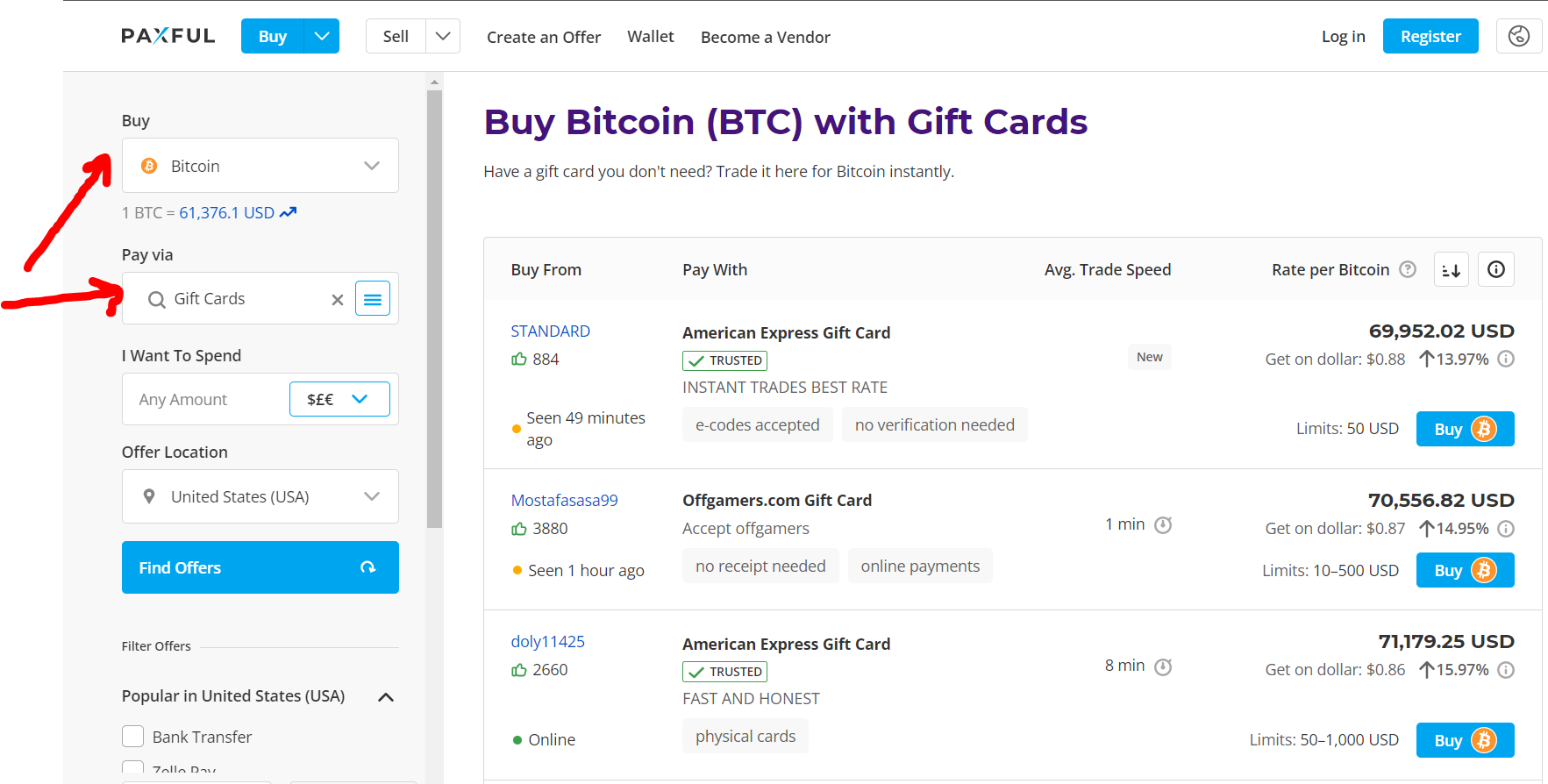 Step 5: Paxful will display the sellers who're offering Bitcoin in exchange for your gift card. Select the offer that suits you the best. Pro tip: Always check the seller's profile, activity, verification status, and the offer terms before you sell gift cards to avoid any hassles in the future.
Step 6: Confirm the trade by clicking the 'buy' button. Paxful will then direct you to the offer page, where you must confirm your details and terms. If everything seems cool, click 'Accept Terms and Buy Bitcoins Now.'
Step 7: Enter your gift card details and follow the instructions on the payment page. As per the instructions, you may have to send the gift card or code to the seller along with the pre-requisite documents. Once you're through, click the 'Paid' button. And you are done. As soon as the seller confirms payment, you'll receive Bitcoin in your Paxful wallet.
The only disadvantage of Paxful is that you can buy BTC only with cards with a printed denomination ($50, $100, $200, etc.). You cannot use a fraction of the card value.
I researched platforms that will allow me to use half of my gift card value. Surprisingly, I found a platform that will enable much more-Purse.io
2. Purse.io
Purse.io allows you to use any amount from your Amazon gift cards. For example, if I had $100 on my Amazon gift card, I could buy Bitcoin worth $32.98 and spend the rest of the amount as I wish. How exactly does Purse.io achieve this? It's their unique trading mechanism.
Here's how it works- You purchase gift cards, help a shopper to buy items on Amazon, and you'll receive Bitcoin in return. Please note that Purse.io only works with Amazon gift cards.
Let's understand you can exchange your Amazon gift cards on Purse.io.
Step 1: Create your free account on the Purse platform. Click 'Earn' on the top menu bar to find the list of sellers offering BTC.
Step 2: Use filters to narrow down your search. You can use the 'Filter by Country' and 'Filter by Amount' options to select a buyer close to you. Again, don't forget to check the seller's credibility, rate, reviews, etc.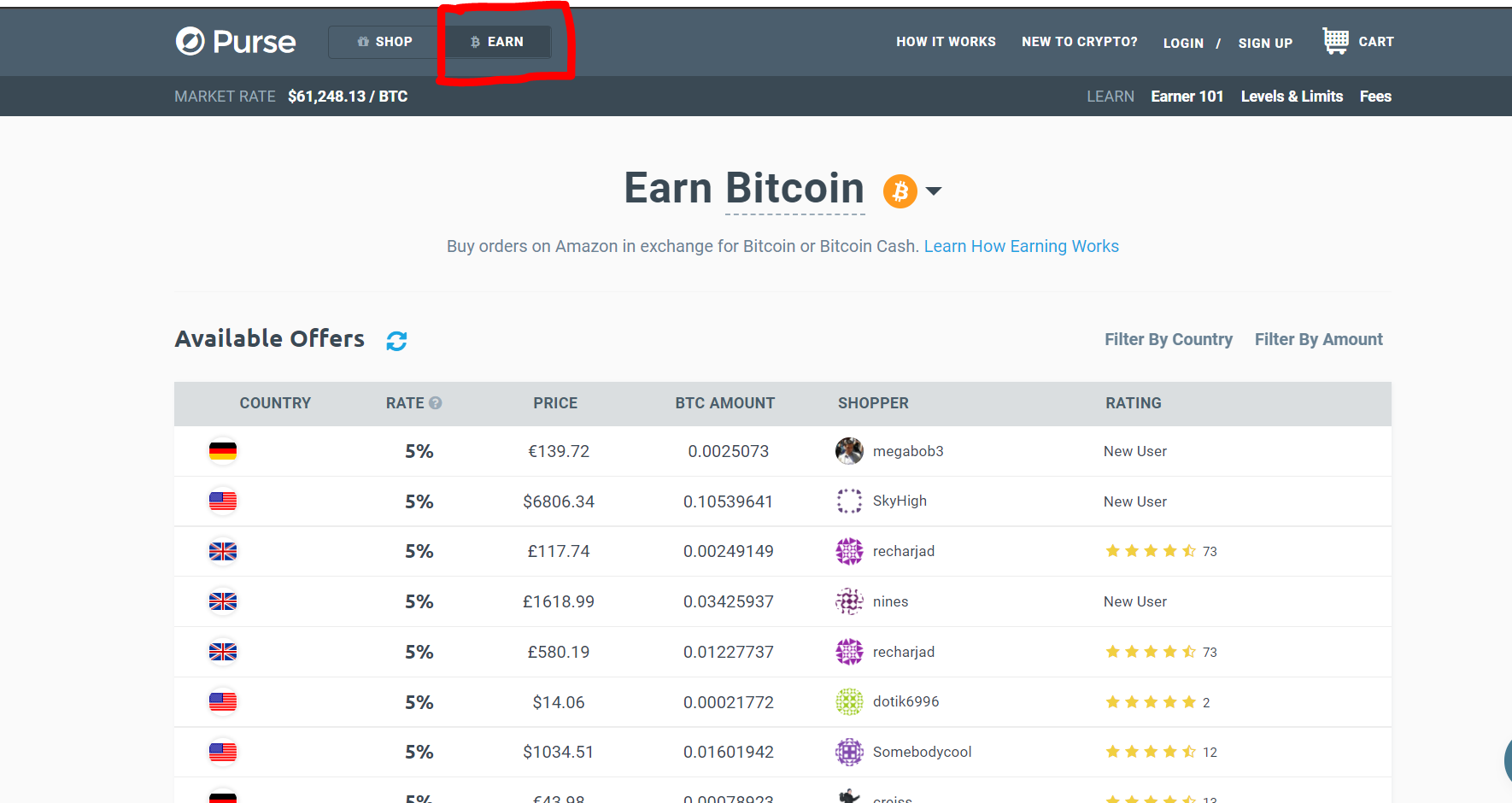 Step 3: Once you select an offer, Purse.io will give you the list of items you need to purchase on Amazon and the amount of Bitcoin you'll receive in return. Click 'Accept Offer' and proceed.
Step 4: Use your Amazon gift card to purchase items from the Amazon shopping site. If you like the terms and the deals, you must click 'Purchase items' and complete the offer within one hour.
Step 5: After you add all the items to your cart and complete the order with your Amazon credit, you must copy and paste your Amazon ID to Purse.
Step 6: Lastly, you must upload the tracking information. When the shopper confirms that they have received the order, Purse.io will release the bitcoins from the escrow to your account.
3. CoinCola
CoinCola is a Hong Kong-based peer-to-peer exchange platform that offers a hassle-free 'gift card trade' option where you can view all offers at once. You can buy crypto with gift cards, cash cards, and e-codes from various retailers like Google Play, Apple Store, Netflix, Amazon, Steam, Spotify, and more.
Let's look at how the platform works.
Step 1: Create an account on CoinCola. You'll have to complete a document verification that'll get you verified on the platform.
Step 2: Select the 'Gift card trade' option on the homepage. On the gift card trade page, you can choose to sell BTC or buy BTC with gift cards. Use the other filters such as 'Currencies' and 'Gift Cards' to narrow the search results. You can also filter the results using the labels option, where you can choose from physical receipts, e-codes, cash only, etc.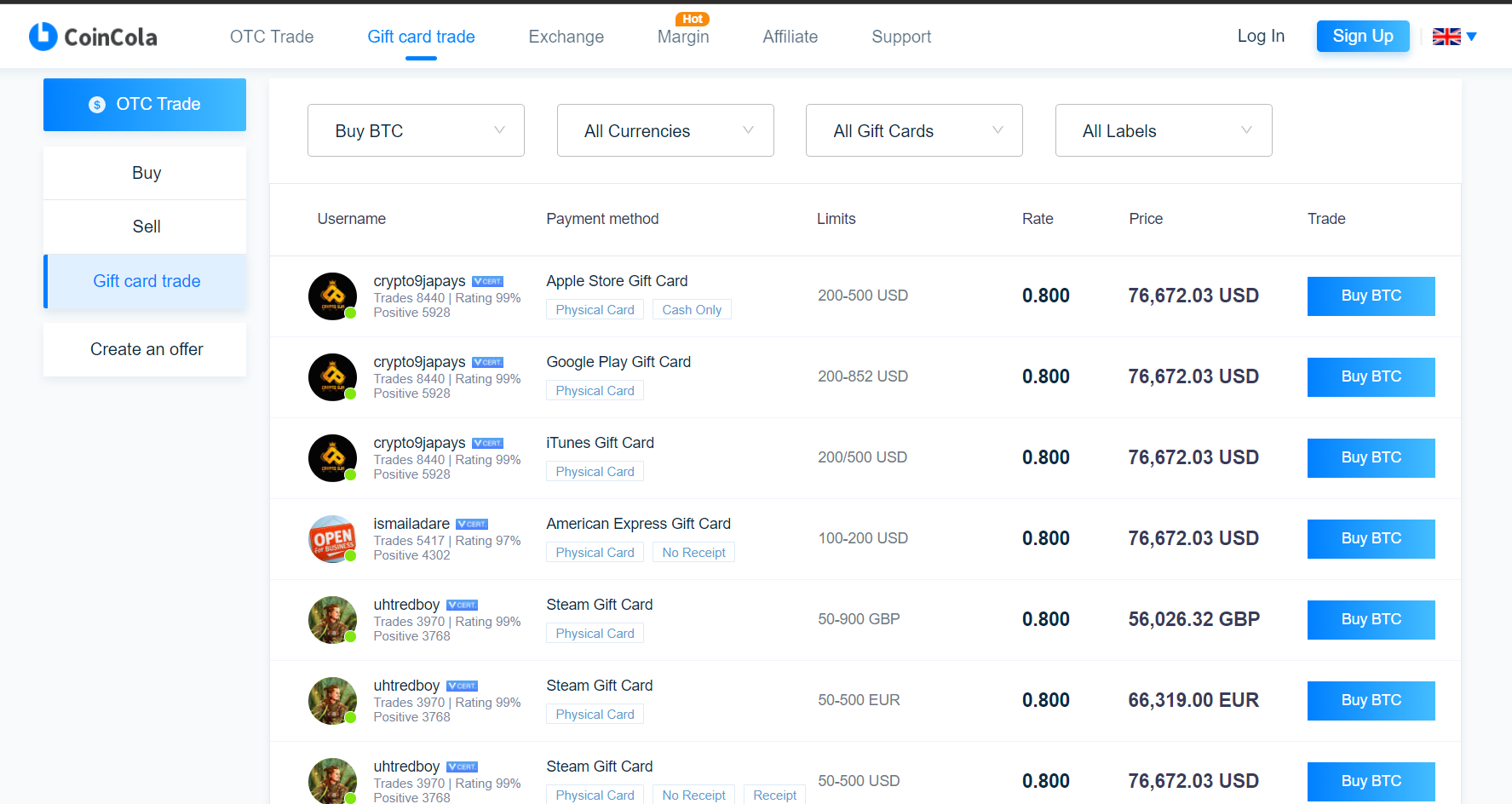 Step 3: From the search results, select a deal using the 'Buy BTC' option. The platform will redirect you to the page where you can calculate the number of BTC you'll receive, the exchange rates, and the sell limit.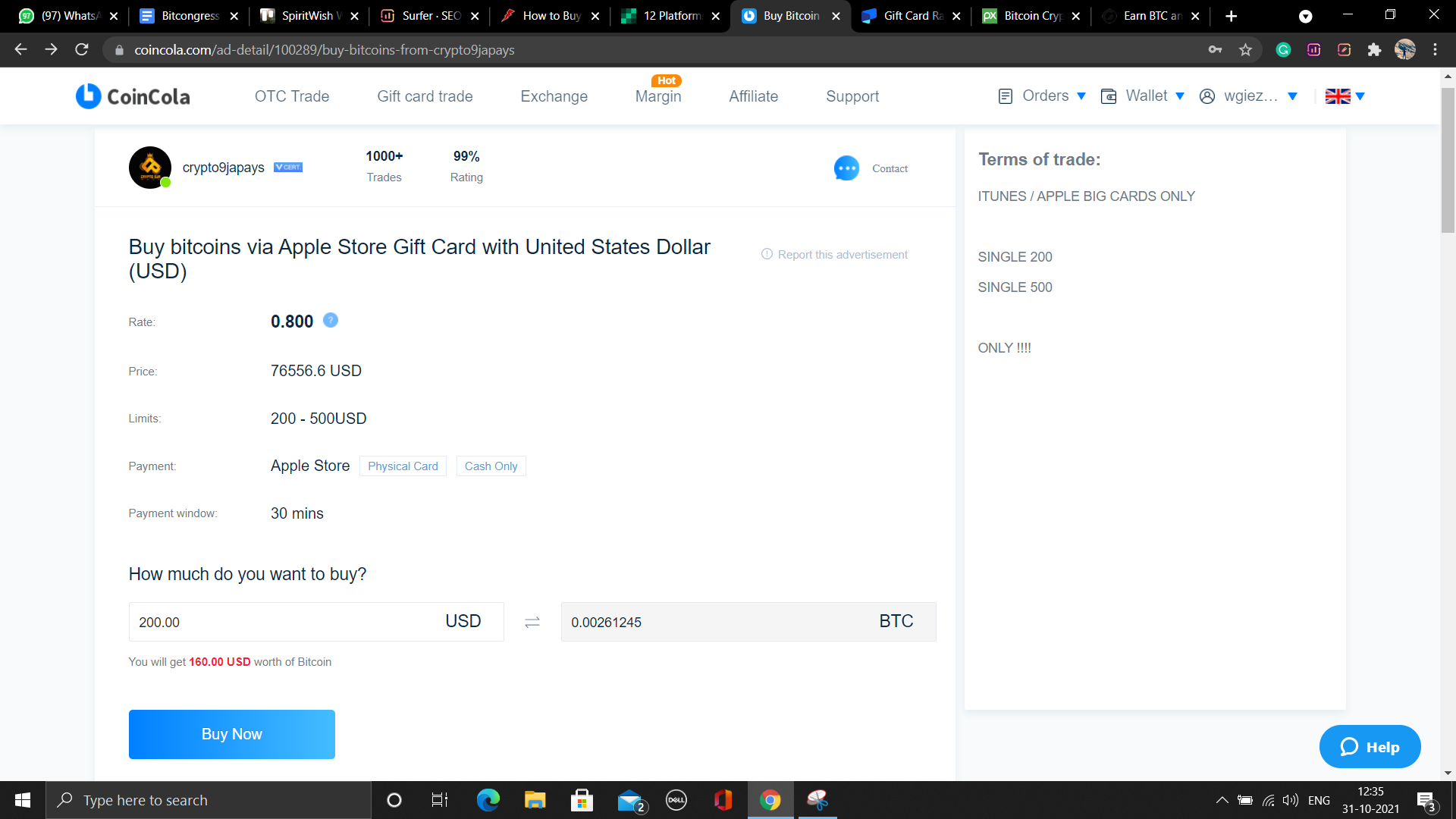 Step 4: Click on the 'Buy Now' option to proceed. Read the terms and agreement of the deal. If you're satisfied with the offer, you can create the order by entering the 'Amount' and clicking on the 'Buy Now'. Please ensure that you have the specified amount in your gift card, or else your deal will remain stuck in escrow.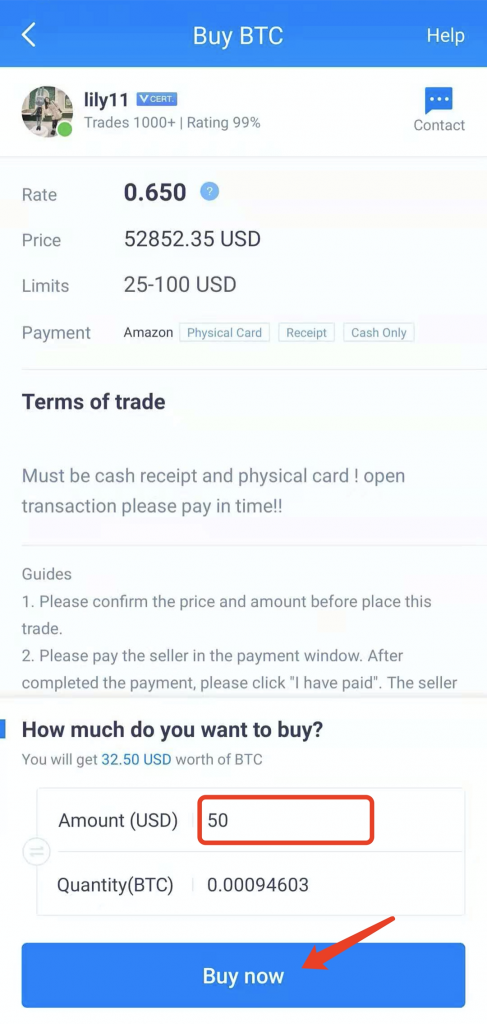 Step 5: CoinCola gives you 30 minutes to complete the payment. Once you create the order, you can talk with the vendor through the chat window. You must send your gift card picture and receipt in the chat and tap the 'I have paid' option. After the vendor verifies your card, they will release the Bitcoin to your CoinCola wallet.
If you do not receive the Bitcoins, you can raise a dispute, and CoinCola will hold the transaction on the platform. You can also use the fiat options to meet card sellers in your region and obtain the coins using gift cards in local currency denominations.
Ways to Buy Bitcoin with Gift Cards- Honorable Mentions
In the process of selecting the best ways to convert gift cards to BTC, I also got to use several other upcoming platforms that deserve honourable mentions. Let's look at a few of these:
Redeeem
Redeeem was in the news recently as the NASDAQ-listed Troika Media Group acquired the platform. I loved the platform for its versatility. Even though Redeeem works on a peer-to-peer basis, it allows you to buy and sell gift cards from more than 34 brands like Amazon, Google Play, eBay, and more.
Besides Bitcoin, you can also buy Bitcoin Cash, Ethereum, XRP, and a range of other popular cryptocurrencies. The most exciting feature of the platform that I found was its Telegram bot @Redeeembot, where traders can use their Amazon and Google play gift cards to trade gift cards on the popular messenger.
Pamcoins
Although Pamcoins operates in Nigeria, it offers a unique business model that other peer-to-peer platforms can follow. You simply need to text Pamcoins on Whatsapp and specify the gift card you want to sell. Several agents on the platform provide you a rate for Amazon, Google Play, and iTunes gift cards.
You can then select an agent and upload your card. Once Pamcoins verifies your card, they promise payment within a few minutes. Buyers can choose their payment method from BTC, ETH, or Nigerian Niara.
Crypto Voucher
Crypto Voucher is one of the most comprehensive global exchange platforms for gift cards and cryptocurrencies. You can upload your personal details, gift card and balance, and the platform will email you cryptocurrency tokens which you can redeem for BTC, BCH, ETH, and other coins depending on your choice.
Conclusion
If you have an unused google play gift card or any other gift card for that matter, exchanging it for Bitcoins can be an excellent option to multiply your assets. I'd recommend that whichever platform you use for trading gift cards, familiarize yourself, check all the available offers, and go for verified dealers only.
Most importantly, if you do not have any prior experience with Bitcoins, please research the market thoroughly before trading.
FAQs on Buying Bitcoins with Gift Cards
Can you buy Bitcoin with Gift Cards?
You can quickly and securely buy Bitcoin with gift cards on any verified peer-to-peer exchange platform. These exchange platforms connect you to sellers offering Bitcoin in exchange for Amazon, iTunes, Spotify, Walmart, VISA, Xbox, Steam, and several other gift cards.
How do I buy Bitcoins with a Prepaid Gift Card?
First, you need to register on a P2P platform that supports gift card trades. Search for the offers on the platform that offer bitcoin exchange. Select the vendor that best suits your rate, and read the payment terms and conditions. Once you accept the trade and submit your gift card details, you'll receive bitcoins in your wallet on the platform.
Can I use a Gift Card on Coinbase?
Presently, Coinbase only supports VISA and MasterCard debit cards for buying crypto in the United States. They do not offer support for any other prepaid cards without an associated billing address.
Can I use my Vanilla Card to buy Bitcoin?
You can use your MyVanilla cards on Paxful and other similar peer-to-peer platforms for buying bitcoin. Simply select your card amount or the amount of BTC you wish to buy, and choose a trade deal from all the available offers.
Anish loves reading, researching, and writing about crypto and blockchain. He started his crypto journey early in 2017, what started as a fad is now a full-time hobby. He curates guides after thorough research on platforms and is responsible for the most in-depth guides on the site. You will find him walking his dog (not Doge) when he is from his Laptop.