Safety is an indispensable component of online transactions, especially if you're buying crypto. Of all available methods for buying Bitcoin, bank transfers remain one of the most preferred methods, thanks to the safety and security they offer.
Crypto exchanges love bank transfers, too. In fact, exchange platforms encourage users to pay with their bank account. Hence when you pay with your bank account, exchanges levy a much lower transaction fee than other payment methods like credit cards.
Paying a lower fee to your trading platform means you get more Bitcoins with your money! Most platforms also offer higher spending limits when you choose the 'buy BTC with bank account' option.
Considering these benefits and the opinions of most Bitcoin experts on the topic, it is safe to say that if you have the means, you must go for the bank account transfer option.
How to Buy Bitcoin with Bank Account Transfer?
You can follow these routine steps on most trading platforms for buying Bitcoin with your bank account:
Register/Sign Up on the exchange
From the payment method options, select 'Bank Account/Transfer.'
Link your bank account to your profile
Once you've linked your account, simply choose the amount of BTC you want and click Buy.
The money will get auto-debited from your bank, and you'll receive Bitcoin in your wallet.
Again, bank account transfers can be of two types in the US – an ACH bank transfer or a wire transfer. In addition, some platforms only let you add fiat money to your wallet for buying Bitcoin, while others give you the flexibility to buy Bitcoin instantly with a bank account.
Since we've already covered buying Bitcoin with ACH bank transfers in detail, let's now look at how you can use the bank transfer method on different exchange platforms when you wish to buy Bitcoin instantly with bank account transfers.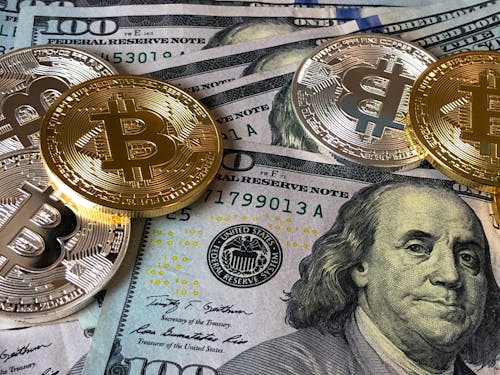 Top 5 Platforms for Buying Bitcoin with Bank Transfers
Almost every exchange platform offers a bank transfer option. However, they differ significantly in their ease of use, fees, support services, and more. Let's look at the pros and cons of each trading platform.
1. Buying Bitcoin on Coinbase With Bank Transfer
Coinbase is probably the best place to start for first-time buyers. Its interface is pretty easy to use, and linking most bank accounts hardly takes any time. They also offer the option of opening a bank account on Coinbase Prime.
You can transfer money from your bank account to your Coinbase wallet as fiat currency or buy Bitcoin directly with your bank account.
Coinbase also doesn't charge any deposit fee for ACH transfers, so you can also buy Bitcoin for a 0% transaction fee with your bank account. However, customers in other countries have to pay a 1.49% international bank transfer fee for depositing money through bank wire.

Since they have privately insured their platform, your funds stay safe in the event of a breach.
The only downside of Coinbase is its over-reliance on ACH. Although you can add cash with wire transfers and buy BTC immediately with fiat payments, buying Bitcoins directly with your account takes place through ACH. Therefore, the time to process your purchase can take more time. Source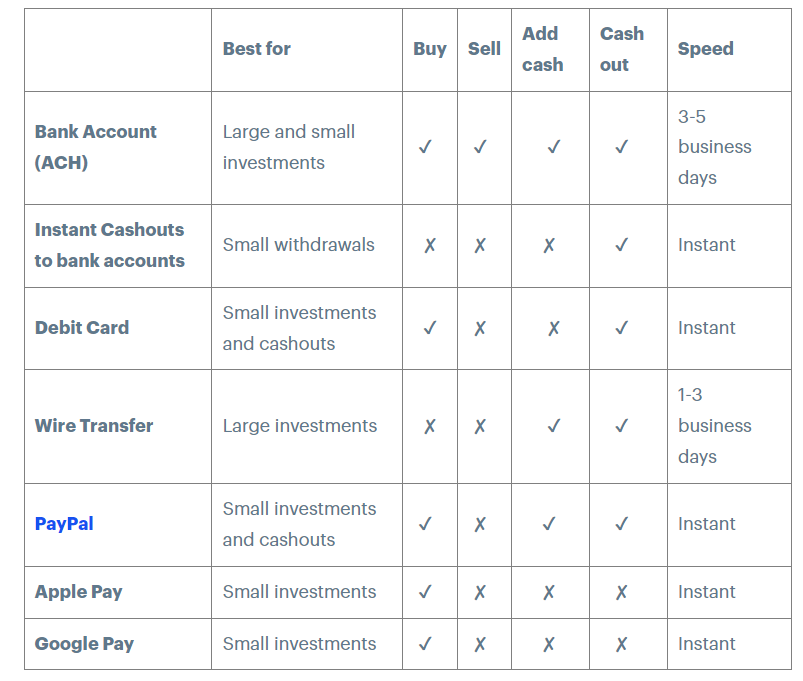 2. Buying Bitcoin on Cex.io with Bank Transfer
Cex.io is one of those rare platforms that charge a 0% fee for deposits made through bank transfers, whether you use ACH, Swift, or SEPA transfers. The zero deposit fee makes it a more financially attractive option than Coinbase.
Additionally, UK customers can also opt for Faster Payments on Cex.io, where they don't have to pay any fee for withdrawals too.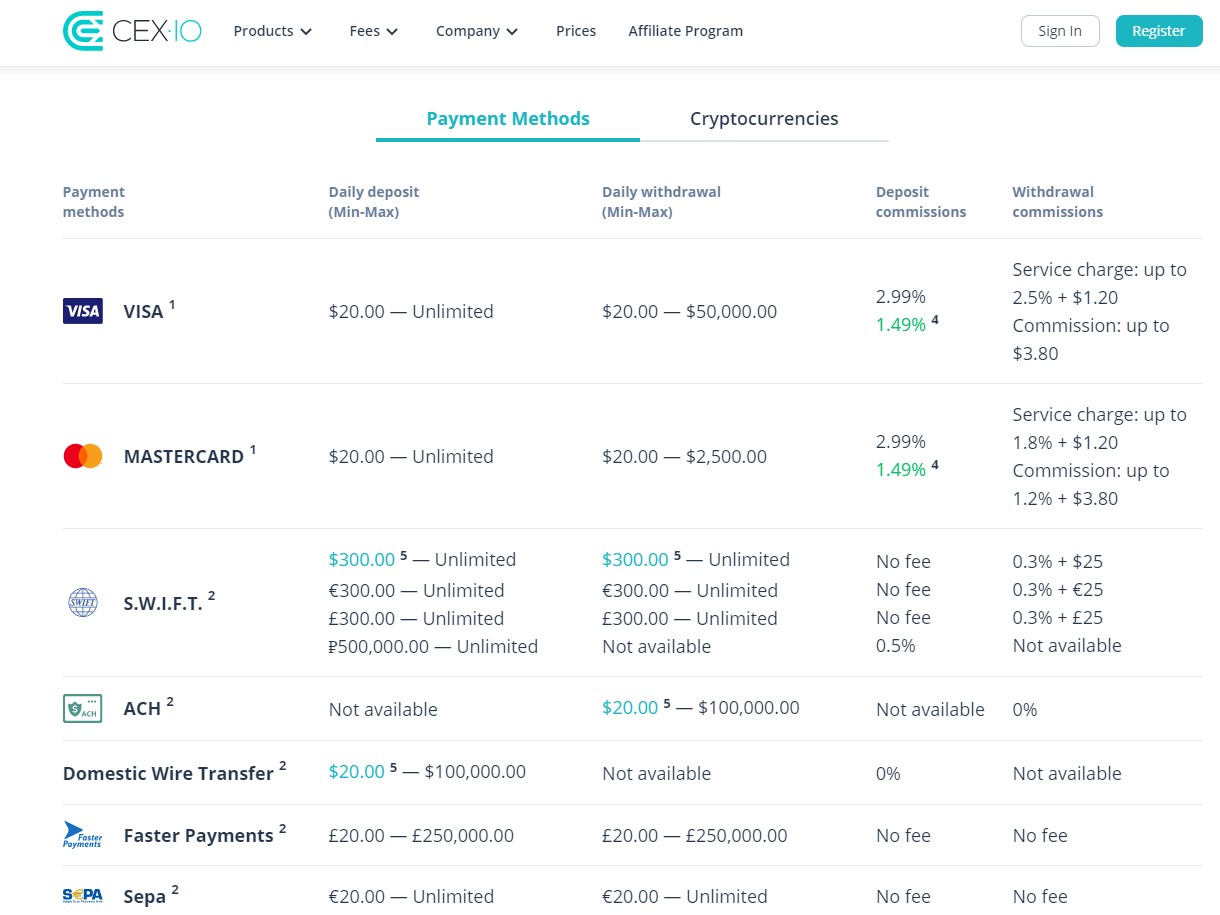 US customers have two disadvantages of using Cex.io. First, the daily deposit/withdrawal is restricted to a maximum limit of $5,000. Second, the deposits take place through wire transfer, while withdrawals are managed with ACH. Therefore, if you want to sell Bitcoin, you may have to wait for 1-3 days before receiving the money.
3. Buying Bitcoin on eToro with Bank Account
eToro is one of the largest platforms with a presence across the US, UK, and EU. The best part about using eToro is its low transaction fee. You have to pay only 0.75% of the spread while buying BTC. New users can also use their copy trading feature to duplicate the portfolio of other investors, which is absent in most platforms.

Another interesting feature of eToro is that it supports international bank transfers. US customers can use ACH, while EU users buy BTC through SEPA transfer. eToro also accepts SWIFT transfers, giving buyers the option to choose a method that suits them the best.
Although they have a simple user interface, withdrawing money to your mobile wallet can be a bit tedious.
Please note that eToro has three subsidiaries: eToro USA LLC, eToro UK Ltd., and eToro Europe Ltd. Customers in the USA transact through eToro USA LLC, while traders in EU countries can use SEPA bank transfer to transact through eToro Europe. Considering the market risk and regulatory aspects, eToro USA LLC advises users to exercise caution.
4. Buying Bitcoin on FTX with Bank Transfer
FTX operates in the United States through FTX.us. They also have a mobile app for Android and iOS for US customers.
Buying Bitcoin on FTX using a bank account is relatively straightforward and hassle-free compared to other platforms. Once you log in to your account and select your wallet, you can see the 'Deposit' option.
After clicking deposit, FTX gives you two options: Deposit via Wire and Deposit via ACH transfer. Once you click, the platform offers a step-by-step guide for filling in your personal information.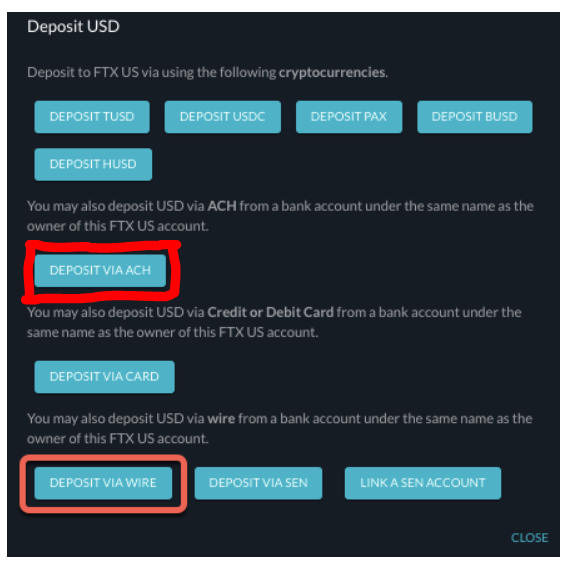 Presently, the FTX does not charge any fees for wire deposits and withdrawals and a $0.50 fee per ACH. They also offer a complete fee waiver in certain situations.
FTX has probably the most stringent guidelines for KYC/ID verification and daily limit among all platforms. Even after completing Tier-2 KYC, you cannot deposit more than $30,000 for the next ten days. Plus, there's a $5,000 limit per deposit. Therefore, it is not an ideal platform for high-volume trade.
Suppose you want to deposit $30,000. In that case, you'll have to make six deposits worth $5,000 each. Once you deposit $30,000, the platform will halt your deposits for the next ten days.
5. Buying Bitcoin on Kraken with Bank Account
Kraken is one of the largest exchange platforms in the world, offering high liquidity. It provides one of the fastest processing times of all platforms, even offering instant deposit in many cases. They have listed the following table on their website.
If you're seeking complete transparency, you'll love Kraken as there are no hidden charges. The platform shows you all the fees on the confirmation page before you proceed with payment.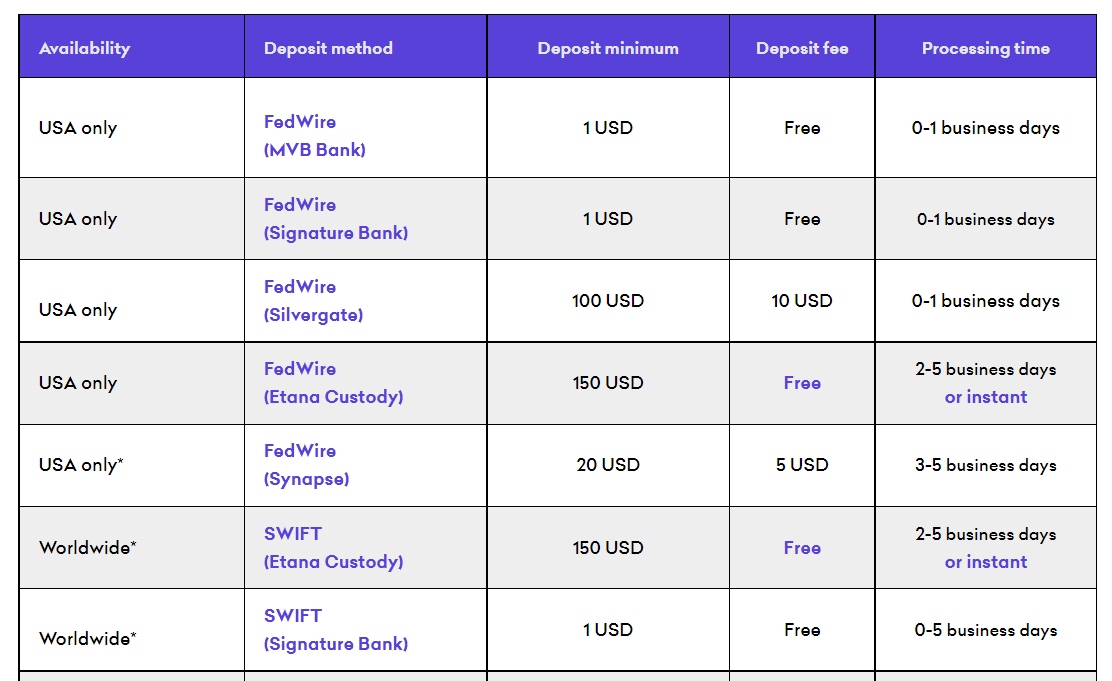 You can also buy Bitcoins instantly directly with an ACH transfer. However, if you wish to buy Bitcoin through bank transfer, you'll have to pay a processing fee equal to 0.5% of the total spend amount and an additional 'Kraken fee' of either 0.9% or 1.5%. Source
We can summarize our platform rankings as Coinbase being the overall best, Cex.io having the lowest deposit charges, eToro offering excellent options, FTX delivering the best user experience, and Kraken providing the fastest processing times.
Let's understand why these factors are essential.
What to consider when picking an exchange?
As we've observed, some platforms have an excellent interface while some offer a zero deposit fee. However, you must not choose an exchange merely because it scores high in one aspect. For instance, a platform that lets you buy Bitcoin with bank account transfers without any transaction fee may limit the number of transactions or levy hidden charges.
Therefore, you must always consider the following factors when you buy Bitcoin.
Deposit Fees
One of the primary reasons for buying Bitcoins is obtaining healthy returns on your investment. You don't want to limit the number of Bitcoins you receive because you paid a hefty deposit fee. While bank transfer options are generally cheaper, the amount differs significantly on each exchange. For instance, Cex.io has zero deposit fees, while Kraken charges a fee equal to 2% of the purchase amount.
It is always advisable to carefully read the terms and conditions to avoid any unnecessary charges later during the transaction.
User Interface
We want a platform that's fast, convenient, and helpful. Although zero deposit fees or sign-up bonuses sound exciting, you don't want to get stuck in a confusing interface while transferring money from your bank. An excellent user interface instructs the user at every step, displays warnings, and clearly specifies all the fees.
FTX and Coinbase have excellent interfaces, with Kraken following the list.
Transaction Limit
While most platforms let you buy Bitcoin with bank transfer options, they limit your transaction amount. Platforms like FTX also cease your deposit operations for ten days once you hit the $30,000 mark.
If you're a new user who's venturing into the world of Bitcoins with small purchases, limits might not matter much. However, with Bitcoin hovering at the $60,000 mark, a $5,000 limit may seem quite small once you start investing regularly.
KYC verifications and increasing your activities can help remove these restrictions on your trade to an extent.
Customer Support
Imagine a situation where your funds are stuck during transfer, and you're frustrated because you cannot reach customer support. No, you don't want to be in such a situation ever.
However, when you buy Bitcoin with your bank account, there are chances that your funds don't go through due to poor connection or some other reasons. Trouble may be unavoidable, but the best exchange platforms will do their best to get you out of any inconveniences.
All the platforms we've selected offer great support, reliability, and resources.
Regulatory Requirements
Always verify that the exchange platform is supported in your country and meets all the regulatory requirements. For instance, US residents must make bank account purchases from FTX.us and not FTX. com.
Conclusion
If you want to buy Bitcoin, a bank account transfer is one of the most convenient and cost-effective options. Most exchange platforms let you buy Bitcoin through the bank transfer option. However, while selecting an exchange, you must always consider the fees, ease of use, transaction limits, and regulations to avoid any hassles later.
FAQs on Buying Bitcoin with Bank Account
Can I buy Bitcoin with my Bank Account?
You can buy Bitcoin with your bank account in two ways. Either you deposit fiat money to your wallet and use it to buy Bitcoin, or link your account and buy Bitcoin directly with your account.
Why should I opt for a Bank transfer when I can use a debit or credit card?
Bank transfers are a better option for buying Bitcoins as they incur lower deposit charges than credit cards. For instance, if you buy Bitcoin on Coinmama with a credit card, you'll have to spend an extra 5% fee. Most exchange platforms offer higher spending limits when you pay with your bank account, thus increasing your trade volume and earning prospects.
How long does it take to buy Bitcoin with Bank Account?
The time required for buying Bitcoin with a bank account can vary according to the payment method and exchange platform. While wire transfers can occur instantly, you might have to wait for 1-5 business days to buy Bitcoin with an ACH transfer.
Anish loves reading, researching, and writing about crypto and blockchain. He started his crypto journey early in 2017, what started as a fad is now a full-time hobby. He curates guides after thorough research on platforms and is responsible for the most in-depth guides on the site. You will find him walking his dog (not Doge) when he is from his Laptop.